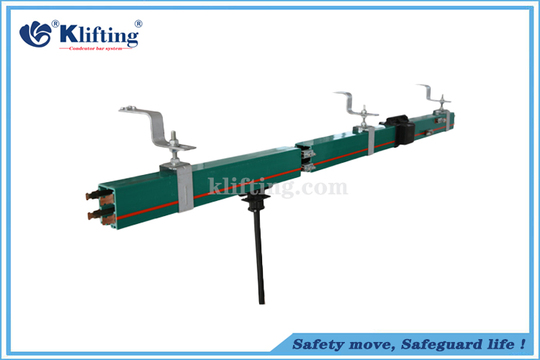 Products
In this system, featured multiple conductors, typically copper strips, are in an insulated enclosure. The current collector tracks are inside the enclosure, with the joining electric cable connected via an opening (slot) in the bottom of the enclosure. The bottom opening can be sealed with a neoprene sealing strip to keep debris and fumes out. The current collector is self-guided in this system and only need to be towed with a towing arm. Multiple copper conductors in the enclosure (aluminum or PVC housing) is available in 3 to 16 conductors and amperage capacities from 30A to 240A.
Approved and listed by: CCC,ISO9001 and CE.
Advantages (why choose us)
• Enclosed conductor rail is a power rail, protected from contact (IP23), for indoor and outdoor plants. They are conductor lines in a rigid green PVC housing with different copper cross sections for rated currents of 35-240A.
• The current collectors, running in ball bearings, are guided by the housing. The main is transferred by spring-stored carbon brushes.
• Type KK73 :not include Sealing strip ,with factory-mounted flat copper band and bolted-operated plug connectors.
• Type KK73 :Curves for R≥800mm,with factory-mounted flat copper band and screw connectors.
Technical data
Electrical properties
Mechanical properties
Max.current
240A
Flexible strength
75N/mm²±10%
Max.voltage
690V
Tensile strength
40N/mm²±10%
Dielectric strength
30-40KV/mm
Temperature range:
Spec. resistance
5×1015Ohm×cm
Standard Housing
-20℃ up to +70℃
Surface resistivity
1013Ohm×cm
High Temp.Housing
-10℃ up to +115℃
Leakage resistance
CTI600-2.7
Low Temp.Housing
-40℃ up to +80℃
Combustibility:
Flame retardant
B1-Flameless,Automatically turn off
Self extinguishing
Class B1-no flaming particles, self-extinguishing
Resistance to chemicals:

+45℃

Gasoline Sulphuric acid 50%

Mineral Caustic soda 25%&50%

Grease Hydro-chloric acid ,concentrated