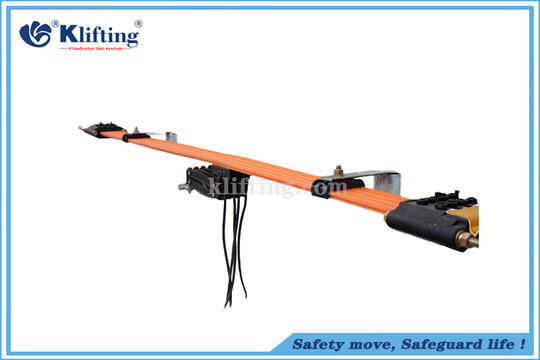 Products
The safety power rails are electrical conductors of various profiles that are used to provide electrical potential to moving systems along a path of travel which have 3-6 poles.
The safety power rails are available for current load from 30A up to 200A mobile electrification technology for moving transportation vehicles and equipment. Common application include: manufacturing robots, material handing system, overhead cranes, playground equipments.
Safety power rail systems are available in a variety of configuration depending on applications requirements. Safety power rails ( 3 IN 1, 4 IN 1, 6 IN 1 )
Advantages ( why choose us)
• No joints (except power feed), safety, and neat, use indoor.
• Integrated design, compact, easy to installation and maintenance, save time and reduce cost.
• Continuously copper inside, conductivity up to 99.99%, small voltage drop, travel steadily, and allow high travel speed, less noise.
• Housing made of PVC, and special technology makes it anti-shock, ultraviolet protected and good physical characteristics.
• Install radius down to 500mm, widely application.
• Ambient temperature: PVC -15℃—+55℃.
3P-Continuous Insulated Conductor Rails
Type
Specification
Unit
Weight(kg)
No.
KD-3-6-30A
3P6mm²
m
0.59
73060030
KD-3-10-50A
3P10mm²
m
0.76
73060050
KD-3-16-80A
3P16mm²
m
1.04
73160080
KD-3-20-100A
3P20mm²
m
1.32
73200100
KD-3-25-125A
3P25mm²
m
1.60
73250125
KD-3-35-175A
3P35mm²
m
1.88
73350175
4P-Continuous Insulated Conductor Rails
Type
Specification
Unit
Weight(kg)
No.
KD-4-6-30A
4P6mm²
m
0.68
74060030
KD-4-10-50A
4P10mm²
m
0.83
74100050
KD-4-16-80A
4P16mm²
m
1.04
74160080
KD-4-25-125A
4P25mm²
m
1.36
74250125
KD-4-35-175A
4P35mm²
m
1.72
74350175
KD-4-10+1-50A
4P10mm²+1*6mm²
m
0.99
74101050
KD-4-16+1-80A
4P16mm²+1*6mm²
m
1.05
74161080
KD-4-20+1-100A
4P20mm²+1*10mm²
m
1.14
74201100
KD-4-25+1-125A
4P25mm²+1*10mm²
m
1.23
74251125
KD-4-30+1-150A
4P30mm²+1.10mm²
m
1.36
74301150
KD-4-35+1-175A
4P35mm²+1*10mm²
m
1.49
74351175
6P-Continuous Insulated Conductor Rails
Type
Specification
Unit
Weight(kg)
No.
KD-6-6-30A
6P6mm²
m
0.95
76060030
KD-6-10-50A
6P10mm²
m
1.18
76100050
KD-6-16-80A
6P16mm²
m
1.41
76160080