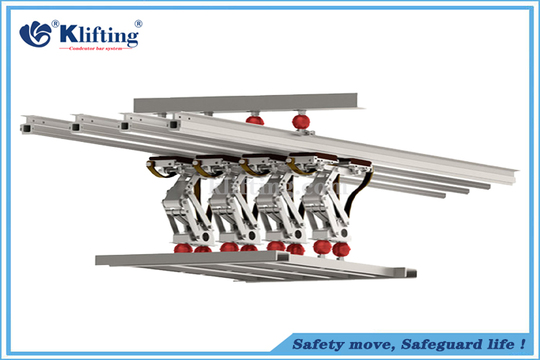 Products
KA Stainless Steel/Aluminum Composite Conductor Rail System(6010A Aluminum bar). It can supply power from one conductor bar system to many systems,can provide power input at any position.
Advantages (why choose us)
• Steel-Aluminum Rails easy to install, maintain, high availability, meet industry safety standards.
• Conductor bar extremely resistant, stainless steel surface corrosion-resistant.
• With long life ,low contact resistance, access to reliable, easy to install and protect.
• Suitable for large current work, can supply long distance.
• Compact and simple structure, suitable for indoor and outdoor use.
Technical parameters
| | |
| --- | --- |
| Standard (Black) | Target |
| Installation altitude height | ≤2000m |
| Installation category | III |
| Around environment temperature | -40℃-150℃ |
| Around environment humidity | ≤95% Allow short-Cream |
| Pollution Level | IV level |
| Standard length | 6m |
| Short time withstand current | 20 times le/1s |
Type Part No.

Rated current

(100%Continue)

Cross-sectional area(mm²)

DC Resistance

(20℃ Ωx10-6/m)

AC resistance

(20℃ Ωx10-6/m)

Weight

(kg/m)

KAL-680/480
680
480
69.8
21.7
1.64
KAL-900/666
900
666
50.5
19.7
2.4
KAL-1100/832
1100
832
41.0
18.3
2.95
KAL-1350/986
1350
986
32.8
17.2
3.5
KAL-1600/1204
1600
1204
27.3
16.1
4.1
KAL-2000/1573
2000
1573
21.8
15.3
4.9
KAL-2300/1800
2300
1800
18.2
14.4
5.7
KAL-2600/2110
2600
2110
14.9
13.6
6.8
KAL-2900/2622
2900
2622
12.6
12.8
7.9