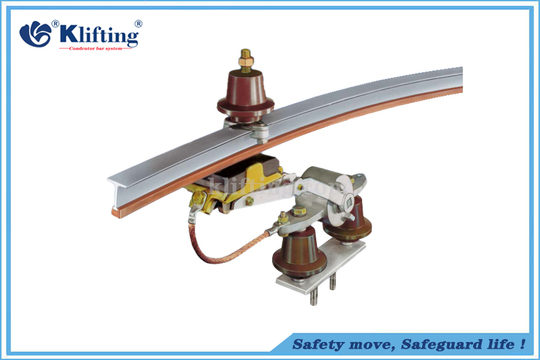 Products
The well-known Copperhead Conductor Rails represent a neat and compact arrangement and have proven an outstanding success for safe power feeding of: travelling cranes, loading bridges, container handling equipment, monorails, hoists, coking machinery and many other applications.
The Copperhead Conductor Rails are available in sizes to meet individual current requirements from 200 to 1,500 Amps.
Advantages(why choose us)
• With Klifting-Systems you eliminate all drawbacks inherent in the conventional design of trolley wires, steel angles and steel rails.
• Copperhead Rails ensure an efficient and continuous contact. There is no sparking.The easy maintenance is a proven low factor.
• No losses due to interruption of service, no downtime. Negligible wear-almost unlimited life of conductors.
• Much lower resistance between copperhead and carbon pick-up shoe.
Steel copperhead rail
Type

Steel cross section(mm²)

Copper cross section (mm²)

a

mm

b

mm

H

mm

Weight

(Kg/m)

Max. continuous

(mm²)

Part No.
KS 35/80-6
230
80
15
35
34
15.2
340
200015
KS 35/85-6
230
85
15
35
34.5
15.5
457
200025
KS 35/90-6
230
90
15
35
35
15.8
372
200035
KS 35/100-6
230
100
15
35
36.5
16.34
402
200045
KS 35/130-6
230
130
18
35
36
17.9
492
200055
KS 35/170-6
230
170
18
35
38
20.0
612
200065
KS 35/200-6
230
200
18
35
40
21.6
700
200075
Hollow aluminum copperhead rail
Type

Copper cross section (mm²)

Equival total copper conductor (mm²)

H

mm

a

mm

b

mm

Weight

(Kg/m)

Max. continuous

(mm²)

Part No.
KH 45/60-7
60
360
41
22
45
2.15
1000
202060
KH 45/110-7
110
410
42
23
45
2.60
1050
202110
KH 45/150-7
150
450
43
24
45
2.96
1150
202150
KH 45/200-7
200
500
43
25
45
3.41
1200
202200
KH 45/300-7
300
600
49
24
45
4.31
1350
100817
Solid copper rail
Type
Copper cross section (mm²)

H

mm

a

mm

b

mm

Weight

(Kg/m)

Max. continuous

(mm²)

Part No.
KC 20/400-7
400
45
12
35
3.55
1050
203400
KC 35/500-7
500
50
16
45
4.45
1200
203500
KC 45/600-7
600
50
25
45
5.32
1350
203600
KC 45/800-7
800
50
27
45
7.12
1550
203800