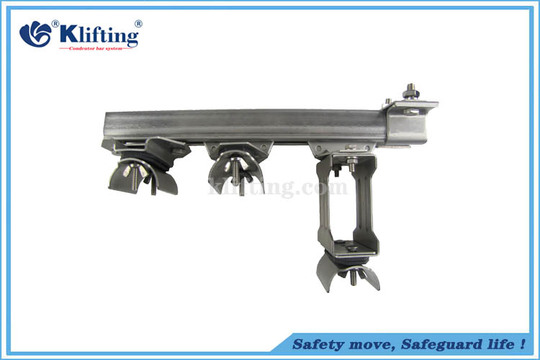 Products Description
The C-track cable festoon system is one of the most versatile festooning techniques available. It is an all-purpose system suited for either indoor or outdoor use under a broad range of operating conditions in a mild environment condition.
C-rail systems applications: crane manufacturing, hoist units, transport systems, special engineering, stacking systems, conveyor system, etc. C-rails are available in zinc-coated and stainless steel version . Special versions are available for explosion-proof areas.
Advantages(why choose us)
• Klifting Festoon Systems support conductor flat cables and hoses for delivering power and control to mobile equipment in a safe, efficient and maintenance free method.The cable carriers are well guided inside their C-tracks and protected against humidity, dust and icing.
• All box-tracks can be bent in accordance to the system layout, considering the minimum bending radii and the permissible cable loops.
• Klifting cable carriers contained in this catalog comply with the VDE and most international regulations.The use of flatform cable is highly recommended due to better bending properties compared to round cable.
• The minimum bending radius permissible for round cable is 5 times the cable diameter – for flat cable it is 5 times the thickness of the cable. This formula allows considerably smaller bend radii for flat cable, minimizing the required Festoon System storage distance which is normally within the length of equipment.
C track
The C track section is used for trolleys running. Curved track is also avaliable.
| | | | | | | | |
| --- | --- | --- | --- | --- | --- | --- | --- |
| Model | Material | Weight(kg) | A | B | C | D | E |
| KH30010 | Galvanized steel | 1.22 | 30 | 32 | 12 | 29 | 1.6 |
| KT30010 | Stainless steel | 1.22 | 30 | 32 | 12 | 29 | 1.6 |
| KH40010 | Galvanized steel | 2.6 | 40 | 41 | 14 | 39 | 2.0 |
Tow cable trolley
| | | | | | | | | | | |
| --- | --- | --- | --- | --- | --- | --- | --- | --- | --- | --- |
| Model | Material | Weight(kg) | A | B | C | D | E | F | G | H |
| KH30060 | Galvanized steel | 0.68 | 180 | 51 | 24 | 55 | 40 | M8 Screw | M8 Screw | Rubber mat |
| KT30060 | Stainless steel | 0.68 | 180 | 51 | 24 | 55 | 40 | M8 Screw | M8 Screw | Rubber mat |
| KH40060 | Galvanized steel | 1.5 | 220 | 130 | 32 | 60 | 49 | M8 Screw | M8 Screw | Rubber mat |
Cable trolley
| | | | | | | | | |
| --- | --- | --- | --- | --- | --- | --- | --- | --- |
| Model | Material | Weight(kg) | A | B | C | D | E | F |
| KH30050 | Galvanized steel | 0.34 | 24 | 39 | 55 | 51 | M8 Screw | Rubber mat |
| KT30050 | Stainless steel | 0.34 | 24 | 39 | 55 | 51 | M8 Screw | Rubber mat |
| KH40050 | Galvanized steel | 0.71 | 32 | 40 | 60 | 85 | M8 Screw | Rubber mat |