Chinese Handicrafts Spread Overseas!
By
Klifting
,
Jul 5, 2022, 6:56 AM
Gu Guoqiang, born in 1994, fell in love with the filigree mosaic craft seven years ago during his study in Beijing for restoration of cultural relics. Fascinated by a filigree mosaic work of his master, he returned to his hometown Chongqing and took provincial-level master of arts and crafts Li Changyi as his new master.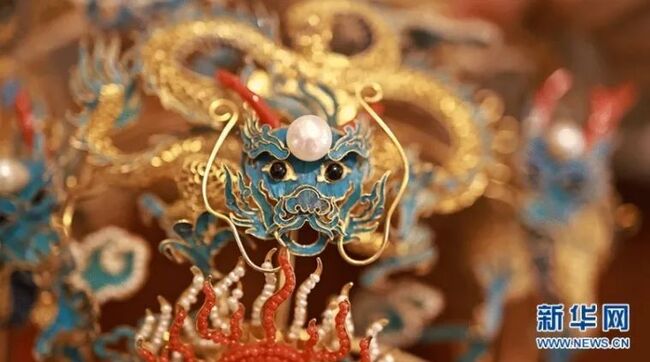 Gu guoqiang showed keen interest in painting as a child. He studied sketching and traditional Chinese painting in middle school. In 2010, he enrolled in the School of Ceramic Art at the Jingdezhen Ceramic University in Jiangxi province.
After graduating four years later, Gu worked as an auction appraiser before getting the chance to study ceramic restoration under a master who repairs cultural relics in Beijing's Palace Museum. During his month with the master, he was introduced to filigree mosaic craft by chance.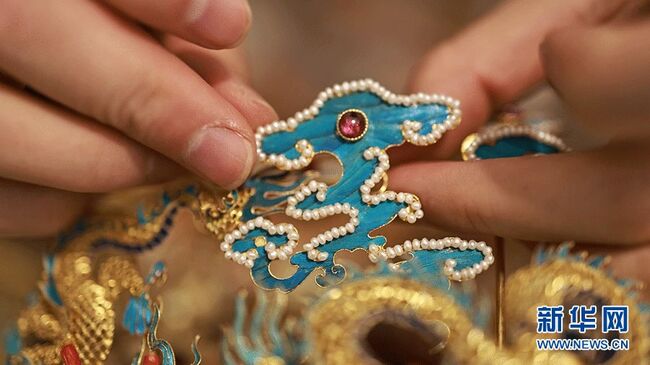 Filigree Mosaic craft, a traditional Chinese aulic handicraft dating back to the Spring and Autumn Period (770-476BC), uses metal such as gold and silver to fold artwork inlaid with gemstone or pearl. It is also called fine gold craft as it usually uses spun gold as thin as 0.16 millimeters to form various shapes, and was listed as one of China's national intangible cultural heritages in 2008.
With a desire to keep the craft alive, he returned to Chongqing in 2015 to study the intangible cultural heritage art.
"The training was very, very difficult and tedious, at first," said Gu, adding that he often became frustrated trying to weld 0.8-millimeter silver thread on a silver plate. "It is incredibly intricate. A little too much melting can ruin an entire piece."
"But if others could learn, why shouldn't I?" Gu told himself whenever he felt like giving up, and remembered his dream and practiced even harder.
His eyes often felt dry after a day's work, but little by little, he learned to draw the metal into threads thinner than a hair and create vivid pieces of art.
In 2017, Gu Guoqiang set up his own studio, exploring a way to make filigree mosaic accessories fitting for modern people. He tries to absorb traditional Chinese culture concepts in his designs, and also takes into account modern taste and use habits.
In order to promote the craft, he shares his works through various platforms and is now followed by 300,000 fans on the popular smartphone app Kuaishou. Some followers even come to Chongqing to learn this craft from him.
Nowadays, Gu's studio sells about 300 filigree mosaic artworks per month, many of which are ordered by people overseas.